2021 Top Bridal Bouquet Trends
Your wedding bouquet will probably be the most important flowers you will ever choose. Not only will they take centre stage on the big day, but will be immortalised in your wedding photographs too. But for many brides to be, the choices of size, colour and appearance are endless. So, to help guide you, our team at wedding-flowers.com, list our most popular designs!
Posy Bouquet
The posy bouquet is a popular choice for modern brides as it is easy to hold and often small enough to be carried in one hand. This bouquet is suitable for almost any type of wedding, and can either be an informal, loose arrangement - perfect for a vintage or country themed wedding - or more tightly constructed for a contemporary look.
Carmen Rose
The Composite Flower Bouquet, or Carmen Rose, as it is sometimes known, is one of the more modern types of bridal bouquet. In this type of arrangement, the bouquet is constructed from hundreds of individual petals and wired together to look like one gigantic and utterly magnificent flower.
Hand- tied Bouquet
This type of bouquet is one of the most simple styles available for a bridal bouquet. It is also a top pick for brides, giving a classic look that looks similar to a bouquet that was picked by hand.
As the name describes, it's a bunch of flowers that have stems which are grouped together by a floral designer in a way that is not structured and is usually tied with a ribbon..This bouquet is perfect for the bride who wants a 'rustic look'.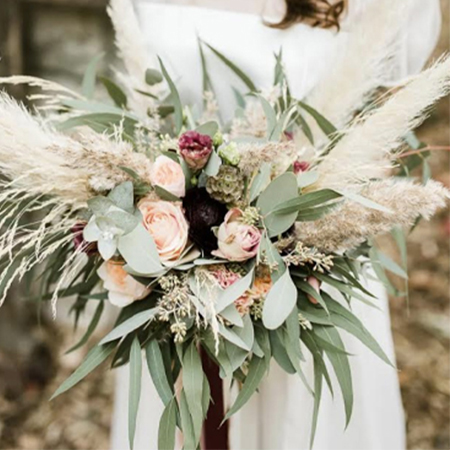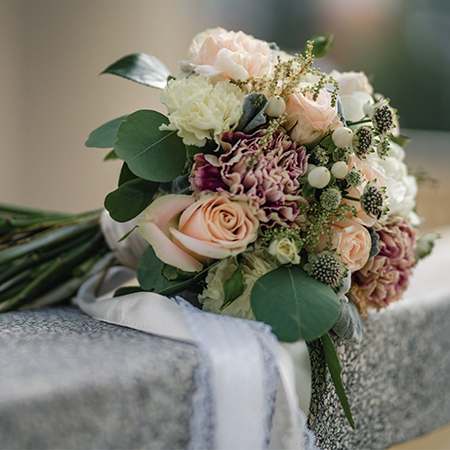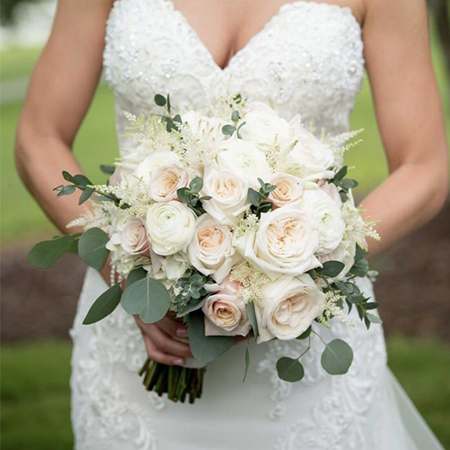 TO LOVE AND TO CHERISH………
Cascade
This stylish yet traditional bouquet, is arranged in a way that it looks like the flowers are flowing down out over the bride's hands down to her feet. Hence, it's sometimes known as the Waterfall bouquet! It's usually made up using a combination of clematis, freesia and orchids and wedding gowns and accessories that work here are usually quite simplistic. Although very traditional, it's often seen in rustic wedding themed weddings.
Shieled Shaped
Deceptively simple, these highly complex bridal bouquets can be carried in one hand and modestly allow the bride's dress to keep most of the attention. Shield-Shaped is trendy and very elegant, with each stem and sprig individually hand-wired to perfection and looks stunning from all angles.
Arm Sheath
Dramatic and effective, this long-stemmed, vertically-shaped bouquet is designed to be carried in the crook of the bride's arm. It often combines greenery, lilies, sunflowers and orchids and is a natural complement to a tall bride in a streamlined or simple dress.
Nosegay
This is a 'go-to' choice for flower girls and bridesmaids. This is a smaller structure using plenty of greenery. The stems of this bouquet are tightly wrapped with lace or ribbon. The majority of throw bouquets for weddings are made in the style of Nosegay.
Contact us for a free consultation today on 01 452 7272 or email celinesweddingflowers@gmail.com.